Claiming Our Place
By Ethel Brooks | April 20, 2018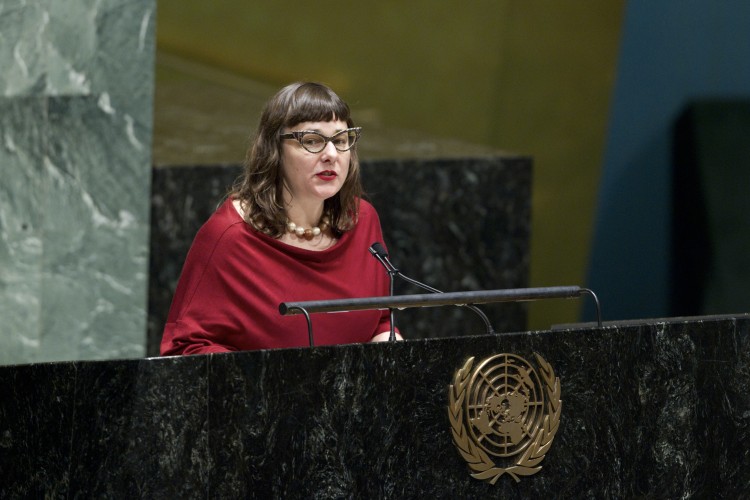 Who produces knowledge about the Roma? Who owns Romani artistic practice? Initiatives such as the European Roma Institute for Arts and Culture (ERIAC) and the RomArchive promote the self-representation of Roma artists and cultural producers, thus developing alternative concepts of European historiography beyond colonial and marginalizing narratives. An essay by Ethel Brooks.
Romani artists and cultural producers have been a central part of Europe's cultural heritage for centuries, yet this moment marks a distinct shift. In the recent past a necessary change of perspective can be observed in which the cultural actors themselves determine the narrative of their work.
A testament to this is Berlin's burgeoning Romani arts scene. Over the past several years Berlin has become a center for Romani artistic production and a home to institutions of Romani arts and culture, history, memory, and knowledge production; most notably, the European Roma Institute for Arts and Culture (ERIAC), the Memorial to the Sinti and Roma Victims of National Socialism, the Berlin Office of the Documentation and Cultural Center of German Sinti and Roma, and the RomArchive. Alongside these organizations are Roma Day and the Roma Biennale, as well as a flowering of Romani theater productions such as the Roma Armee at Gorki Theater and Rastplatz Marzahn.
We Roma and Sinti, in Europe and beyond, are creating our own spaces for cultural production, artistic practice, and knowledge production. We are claiming our place as intellectuals, artists, creators, and, in the process, are reframing our position, our history, and our cultural practice—we are taking stock of our relationship with Europe.
This process of "taking stock," marked by these new institutions, productions, and events, involves asking questions of ourselves, of Europe, and of the world. The questions range from those that are seemingly empirical—What is Romani artistic practice? What is Romani knowledge production? What is Romani history?—to more critical questions of representation such as: Who produces knowledge about the Roma? Who owns Romani artistic practice? Who can claim Romani history, Romani identity, Romani arts and culture? Whose voices, whose visions, whose images are projected, circulated, and defined as those of Roma and Sinti subjects, of Romani culture and Romani history?
In fact, taking Romani history, cultural production, and knowledge seriously means questioning dominant understandings of Europe as a bounded set of practices, institutions, and knowledge. Roma and Sinti are Europe's biggest and oldest minority group; there are 10 to 12 million Romani people on the continent, and millions more in diasporas across the Americas, Africa, Australia, and Asia.
Romani artists and cultural producers have been at once highly visible and deeply, profoundly unrecognized across the centuries in Europe and beyond. Portrayals of Romani subjects are central to much of the European canon, and paintings of Romani life, culture, individuals, and communities can be found in museums and archives across the world—including the Metropolitan Museum in New York, the Tate Modern in London, the Louvre in Paris, and the Pergamon in Berlin. Romani subjects have also been central to artistic schools such as Romanticism, to practices of Bohemianism and the avant-garde, and to musical composition across the eighteenth, nineteenth, and twentieth centuries, all of which have drawn from, used, and appropriated Romani-ness in the name of cutting-edge artistic practice.
Romani subjects, ideas, images, and practices are visible in many cultural institutions in Europe, even as Romani people as cultural agents have been erased. Romani voices, Romani artists, intellectuals, cultural producers, performers, and authors—as well as everyday Romani people —have been marginalized from the very cultural production that we have created, from flamenco to Balkan brass, from opera and ballet to "Gypsy" jazz, from medicine to psychoanalysis to storytelling, from painting to photography to filmmaking and beyond. We are hypervisible subjects of arts institutions, artistic practice, and knowledge production, and of statecraft, policing, and economic policy; but the royalties and profits associated with our artistic and intellectual production have been appropriated by non-Roma, who shape narratives that render us absent.
In the fields of art and culture this exclusion has resulted in the perpetuation of stereotypes and the reinforcement of racism that the Roma and Sinti have faced for centuries. Television shows such as UK Channel 4's TV show My Big Fat Gypsy Wedding reinforce the difference and exoticism that so often mark mainstream depictions of Romani people, as do operas such as Carmen; there are multiple examples of this in classical and popular music alike, and in paintings that portray fortune-tellers (by artists such as Jacob Duck and Bartolomeo Manfredi), caravans (Vincent Van Gogh), and "typical" Romani women (Robert Henri).
These portrayals, in turn, feed into the structures of violence and exclusion that Romani people experience everyday. Furthermore, they, for the most part, stand in for Romani history, including that of multiple genocides—from the Anti-Egyptian Laws enacted under the English king Henry VIII to the Holocaust, which claimed hundreds of thousands of Romani lives. Many Romani people themselves have no idea either of the history of persecution or of the vibrant intellectual artistic production that is central to what it means to be Romani.
The Romani institutions, organizations, and productions in Berlin have been created by the Roma and are part of a larger network of Romani voices, institutions, and knowledge producers ranging from Budapest to Skopje to Paris, Kiev, New York, Rio de Janeiro, Durban, Alicante, Buenos Aires, and beyond.
The European Roma Institute for Arts and Culture (ERIAC) "exists to increase the self-esteem of [the] Roma and to decrease negative prejudice of the majority population towards the Roma by means of arts, culture, history, and media." ERIAC's work focuses on Romani self-determination and self-definition and builds upon the work of the decades-long Romani civil rights movement. By supporting, building, and networking among Romani cultural producers, ERIAC is part of the larger process of reclaiming and reevaluating Romani history and culture in Europe.
The RomArchive "is devised as an international digital archive for art of the Roma – a constantly growing collection of art of all types, complemented by historical documents and scholarly texts." One of the main tenets of the RomArchive is self-representation, and the archive brings together mediums ranging from photography, film, and visual arts to music, dance, and performance, along with the history of the Holocaust and the Romani civil rights movement.
These cultural institutions allow for a change in narrative that puts Romani people at the center of our cultural production and allows for the creativity, presence, and belonging of Roma and Sinti in Europe and around the world to shine. By featuring our voices, our presence, and our agency within these premier cultural institutions, these places, sites, and projects allow our stories to be told and new conceptions of European history that go beyond colonial, exclusionary narratives to surface.
It signifies a definitive shift away from hegemonic representations of the Roma precisely because of its focus on Romani voices—the body of work across genres, created by Romani people, is featured in the archive and placed in their political, cultural, and historical contexts within Europe.
The very construction and bindings of Europe—what it means to be European—have been created through a denial of its Romani history, culture, and the very presence of the Roma. The current moment is one that demands a rethinking of Europe, of knowledge production, of the arts.
It will shift—and, one hopes, dismantle, our understanding of Europe and its history in order to make room for Romani narratives, narratives of otherness and diversity, of the richness and beauty of multiculturalism as well as a reckoning of the violence and destruction of the colonial project, the national(ist) project, and the project of "whiteness" that is at its heart.
This is what decolonization might mean, true decolonization that takes seriously the claims of otherness. Decolonization as a methodology of love, as knowledge production, as beauty, and as the future. Through our stories, our narratives, our artistic and cultural practices, and our knowledge we claim our place in Berlin, in Europe—and in the world—as Romani people. As citizens of our nations, of Europe, of the world.
Ethel Brooks is Associate Professor of Women's and Gender Studies and Sociology at Rutgers University, where she has taught since 2000. Since 2012, she has been a Tate-TrAIN Transnational Fellow at the University of the Arts London. She has been the Undergraduate Director of Women's and Gender Studies at Rutgers (2012-2014; 2017-2018) and the US-UK Fulbright Distinguished Chair at the University of the Arts London (2011-2012). Dr. Brooks has been awarded numerous grants and fellowships, including from the UK Arts and Humanities Research Council as a co-Principal Investigator (PI) for the project, "Performing Romani Identities," with Professor Jane Collins. She is currently co-PI on the project, Divergent Fates: Travelling Circus People in Europe under National Socialism, with Dr. Malte Gasche. Brooks is a member of the United States Holocaust Memorial Council and Chair of the Board of the European Roma Rights Centre. Brooks is the author of Unraveling the Garment Industry: Transnational Organizing and Women's Work, winner of the 2010 Outstanding Book from the Global Division of the Society for the Study of Social Problems.